MicroSource Fertilzer warehouse is located in Shakopee, MN, U.S. The total area of the warehouse is 43,000 square feet, but this wasn't the only challenge for floor layers. The owner is stacking 1,000 l chemical containers exerting over 2 tons of force into the slab at each location.
"The original design had the slab being cut into 12' maximum panels. Since the warehouse is for a Chemical/Fertilizer distributor, there was a need to place a waterstop in all saw cut joints in order to eliminate the possibility of soil contamination in the event of a spill. The required water stop was both expensive and time consuming to install. We used PrīmX - the world's first fully seamless concrete warehouse flooring solution," says Project Manager Greg Komis from the company GRESSER (www.gresserco.com). Gresser is one of the leading concrete contractor companies in the region, and a PrīmX licensee in Minnesota. Company has 40 years' experience in laying concrete floors and doing other building jobs with concrete. GRESSER is run by the second generation of owners from the same family.
PrīmX is a unique concrete that is smooth, has no cut joints and no wide opening dominant daily joints. Moreover, joints do not curl upwards there as the nearly crack-free concrete floor system is produced with zero shrinkage technology. "With this technology, we were able to significantly shorten the construction duration and offer a cost savings when compared to the original design. Typically, fertilizer projects require waterstops, joint sealers, and special floor treatments such as epoxy toppings, all of which entail additional costs. PrīmX eliminates most of these added costs as well as puts the owner at ease knowing that the risk of soil contamination is greatly reduced," explains Mr Komis.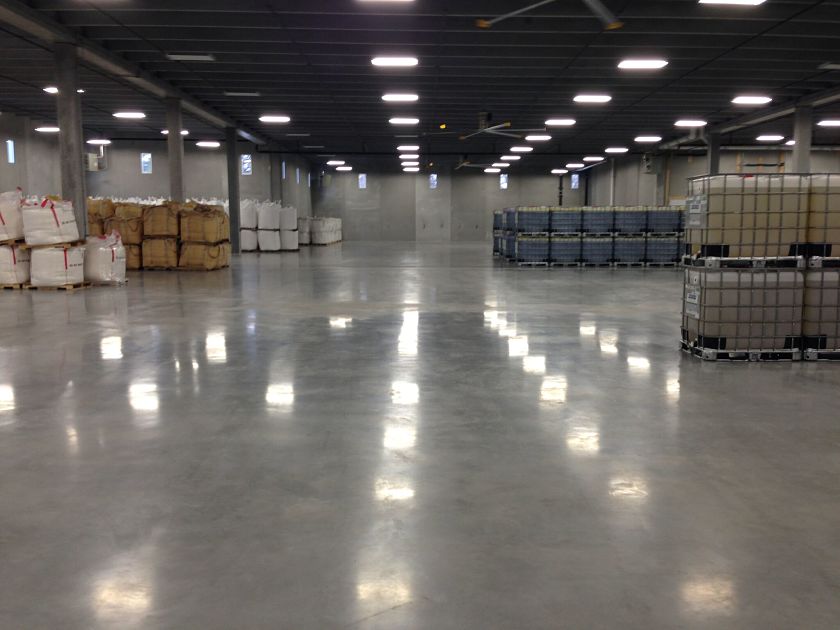 "The floor is 100% crack free and has exceeded our expectations! Another benefit is the shine it gives off. It looks like it would be slippery but it's not. I think this system will revolutionize concrete floors as it becomes more widely understood," says Kipp Smallwood, COO of MicroSource.
The project was completed in December 2015 on a tight schedule of just 70 working days on site, starting from demolition of an existing building and construction of a new one. The facility was ready on December 10, 2015.
Mr Komis says that it is possible to offer a better solution in terms of the timeframe for nearly every project: "On smaller jobs such as Microsource we shortened the duration by a week. On larger projects such as Faribault Foods we were able to shorten the duration by well over a month. Our customers have been very impressed when we deliver a premium slab in less time than a traditional saw cut slab."