Primekss is committed to being a catalyst for a more sustainable future. Our goal is to make concrete that is 50% stronger, produces up to 70% less CO2 emissions and is 30% faster to install and our aim is for 80% of concrete structures worldwide to be built using our solutions.
Primekss works and perfects one niche: the best concrete. We provide it globally and continuously develop our product to greater perfection. We have the capacity, innovations, patents and R&D center to ensure the best product and service.
Sustainability is at the heart of everything we do, from recruitment and how we build our teams, to designing our production technology and ensuring efficiency, measurability and accountability in all our processes.
Through our experience and expertise, Primekss contributes and delivers sustainable solutions to support clients, communities and other stakeholders to exceed their sustainability goals and strive for more.
The Primekss Sustainability Policy Statement defines the common principles for us to effectively manage and promote sustainability awareness within Primekss. It applies to all Primekss entities and employees. It includes Sustainability relating to three major groups: Social, Economic and Environmental.
Social – (including, but not limited to, health, safety, education, democracy, housing, crime prevention, leisure, diversity and inclusion, human rights, labor standards, community impact and interaction, working conditions);
Economic – (including, but not limited to, wages, employment, trade, investment, business practices, innovation, revenues, earnings, shareholder return);
Environmental – (including, but not limited to, efficient use and reuse of natural resources, recycling, air, water, soil quality, protection of wildlife habitats, emissions reduction, regulatory compliance, biodiversity).
Primekss strives to:
ensure that the right procedures, mandates, and resources are implemented to meet Primekss' values and targets;
provide clear and visible leadership in sustainability throughout the organization;
support and commit to international initiatives aimed at responsible corporate affairs such as the UN Global Compact Ten Principles;
ensure that the working environment is of a high standard and all workers on our sites are safe and treated with respect for their human and employment rights;
support the rights of all people as described in the Universal Declaration of Human Rights adopted by the United Nations (UN) and codified in the conventions of the UN's International Labor Organization (ILO);
provide science and data-based solutions for CO2 reductions with our Primekss Concrete Research Center, the most modern and largest, science-based, private concrete research center in the Baltics and Eastern Europe. We conduct hundreds of tests to identify solutions to partially replace cement and minimize environmental aspects. We truly believe that science and innovation are key to substantially decreasing % emissions in the concrete industry;
ongoing data gathering on all Primekss projects to monitor all key parameters during casting and long-term after. This allows us to create sustainable concrete systems that would last longer, thus reducing the environmental footprint.
Primekss' Concrete Research Center provides technical support and expertise for Primekss construction sites around the world; the equipment and highly qualified and experienced personnel carry out the design and quality control of PrīmX concrete compositions in any construction site in the world.
PrīmX = up to 70% less CO2 emissions. This is key to assisting our clients decrease their level of CO2.
We contribute to a more sustainable world through innovative, high-quality concrete technology designed responsibly and poured with the highest quality. With concrete responsible for about 8% of carbon dioxide emissions worldwide, PrīmX is well-placed to make a meaningful impact on the global stage. PrīmX - jointless, self-stressing, steel-fiber reinforced composite concrete is much stronger than traditional concrete. Thus, combining smart material choices and optimized production processes makes it possible to design structures that use less concrete and save up to 70% of CO2 emissions.
PrīmX is a patented concrete technology product that is dedicated to the reduction of CO2 emissions. All business units should ensure coherence to the Primekss climate target of achieving net-zero greenhouse gas emissions by 2045.
The Primekss Concrete Research Center cooperates with leading academic organizations in Latvia and the world, including the realized and ongoing cooperation projects with the European Organization for Nuclear Research (CERN) in Geneva, Switzerland.
Standards and Compliance
Primekss has built and will continue to improve on a culture where employees act in line with Primekss commitment to sustainability.
All business units have the proper structures and systems to manage sustainability related risks.
Standards and processes are in place in all business units to ensure that people have the skills, knowledge, attitude and training in sustainability to fulfill their duties.
Primekss' Culture Code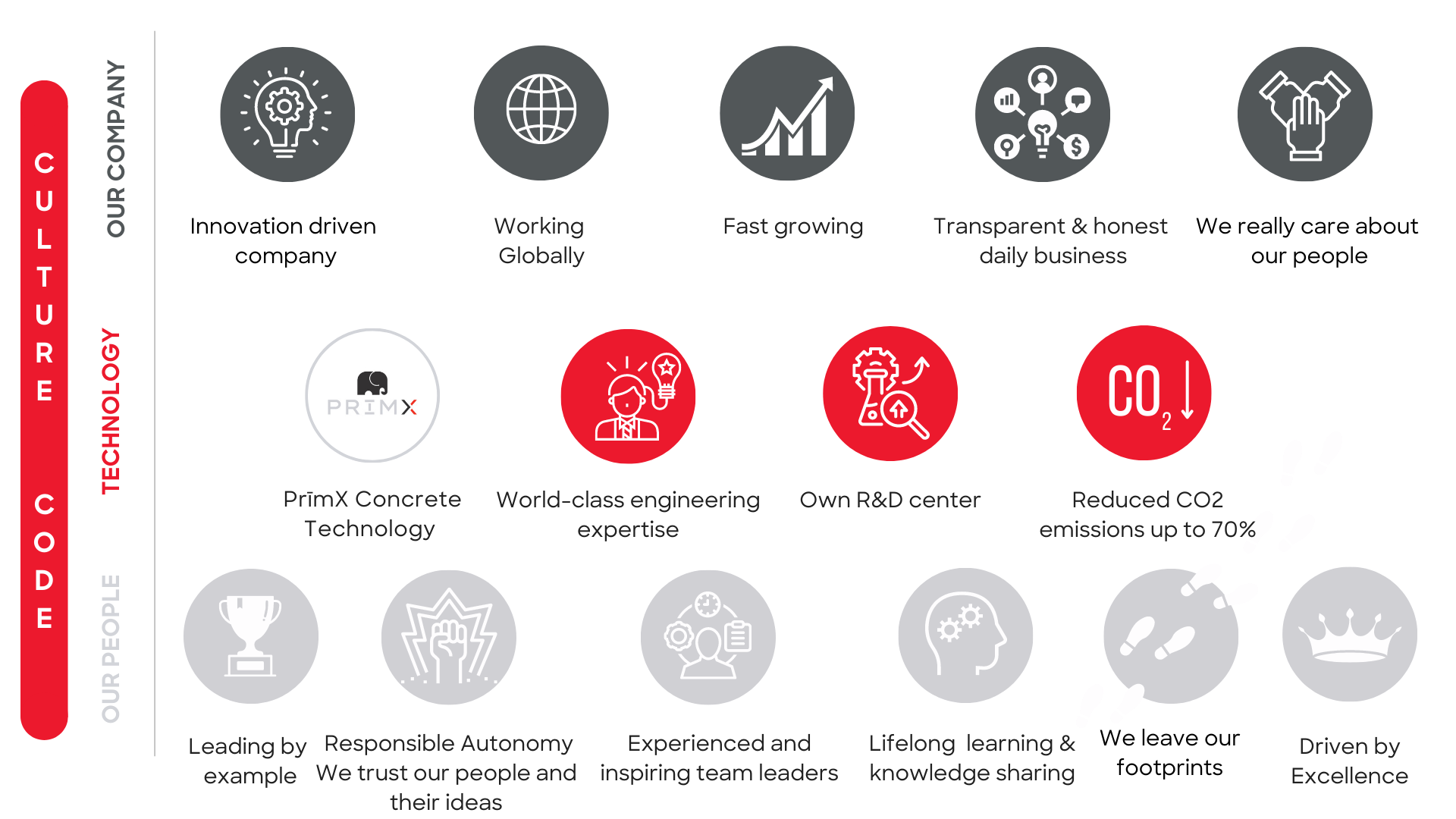 We believe that the best work environment for our employees is one, where they can develop, thrive and exceed their potential. This is why we give all of our employees Responsible Autonomy – our employees have a say in how we work and we propel the decision making process to all levels of the organizational hierarchy, thus creating an environment where leaders can thrive and leadership qualities blossom. Responsible Autonomy also means that all rules, regulations and standards apply to everyone and safety comes first.
To enable individual decision making, we have an extensive Lifelong Learning program, where we train our employees, so they have the knowledge and tools to take sound decisions.
We also believe in transparency – all data, financial and other are available to all employees – we call it Open and Transparent management – "The Great Game of Business".
If people have the information data and required knowledge, then they can make decisions. As a result, our empowered employees take leadership in fixing issues rather than complaining about someone else – so we are Leading by example.
This sets the path to Experienced and Inspiring team leaders -because we want our team leaders to be source of inspiration, advice and development for all team members.
Our final value is centered around our drive to constantly improve and excel. We believe we must do everything in the best possible way and strive for excellence, but if something does not work perfectly or we see room for improvement, we fix it. This value also guides us in our relationships with out clients.
Taken together, these values create Primekss as a socially responsible employer that cares deeply about the welfare of our team.
Corporate Social Responsibility (CSR)
Primekss believes and promotes the responsibility of businesses to not only generate profits but also to contribute to the sustainable development of the communities and environments in which they operate.
Environmental sustainability: including the active reduction of our carbon footprint, conserving natural resources, reducing waste and pollution, and promoting sustainable practices in the supply chain.
Social initiatives: aimed at improving the welfare of employees, supporting communities, promoting diversity and inclusion, and contributing to social causes such as education, healthcare, and poverty alleviation.
Ethical business practices: This includes upholding ethical standards in all business dealings, including avoiding corruption, ensuring fair treatment of employees and suppliers, and promoting human rights.
Primekss is committed to conducting business with the utmost integrity and does not tolerate any form of bribery or corruption.

Primekss, by promoting the responsibility of businesses to contribute to sustainable development, is embracing the idea that companies have a duty to make a positive impact on the world beyond their financial performance. This includes supporting local communities through charitable giving and volunteering, promoting diversity and inclusion, and adopting ethical business practices.
Primekss and its employees are committed to supporting charitable activities and taking steps toward environmental sustainability. Reducing waste and adopting environmentally friendly practices also minimize the negative impact of business operations on the environment. This includes reducing paper usage, promoting electronic document management, and encouraging remote work to reduce the need for transportation and energy consumption.
From 2023, Primekss will promote students studying engineering through the establishment of a scholarship in cooperation with the Vitolu Foundation.
Primekss´ Commitment to the Management of Public Information
Sustainability risks includes business associates such as contractors and suppliers, as specified in the Primekss Supplier Code of Conduct.
Furthermore, all business units must follow the Primekss Code of Conduct specifications on Diversity and Inclusion, including ensuring that there is no form of disrespectful behavior, bullying, discrimination, harassment or unwanted sexual advances.
Measuring Performance and Reporting
Primekss engages with stakeholders in a transparent manner reporting on sustainability performance and impacts, using internationally acknowledged standards, such as the GRI (Global Reporting Initiative).
For 25+ years, sustainability continues to be an integral part of Primekss, and similar to the steel fibers that bind, improve and strengthen our concrete technology, sustainability in practice, adds to the value of Primekss and the work that we complete for our clients.