Primekss, the creators of the unique, innovative, truly jointless concrete technology, PrīmX, with millions of square meters applied worldwide, is excited to announce Profal Industry as its licensee in Romania and Moldova.
Unique PrīmX technology makes it possible to control concrete shrinkage – the biggest drawback of the world's most widely used construction material. Concrete shrinkage dramatically shortens the service life of concrete structures and leads to various challenges and huge maintenance costs. Problems caused by shrinkage in large-scale concrete-floored distribution centers and warehousing operations include uneven flooring, damaged joints, damage to machinery, health issues with forklift drivers, etc. These result in huge annual maintenance expenses, reduced efficiency, and prevent the introduction of the precise automated robotic systems needed to keep up with the increasing competition.
PrīmX technology floor slabs are designed to facilitate the rapid development of automated logistics and warehousing operations. This jointless steel-fiber-reinforced self-stressing concrete system represents the pinnacle of consistent, high-quality concrete flooring anywhere in the world. PrīmX concrete technology makes it possible to construct high-quality, jointless, saw-cut-free floors that ensure true flatness over the long term – Lifetime flatness for fast operations, due to precise and dimensionally stable slabs with no shrinkage movement, ready to accommodate precise automated and robotic solutions.
PrīmX concrete floors are the floors of choice for DSV, IKEA, Volvo, Lidl, NCC, Logistic Contractor, Prologis, and Skanska, among other blue-chip companies.
Commenting on the partnership, Profal Industry CEO Dan Cristurean said, "We believe that PrīmX technology is the next level of concrete flooring. It allows us to provide solutions for the most demanding companies that are focused on efficiency, looking for long-lasting, low-maintenance solutions that allow them to maximize the efficiency of their existing operations and be ready for the demands of automated, robotized technology. The other main reason we chose to become PrīmX licensee is that it's an eco-friendly system. It leads to reductions of up to 80% in CO2 emissions. We strongly believe that construction must be efficient and sustainable at the same time."
Primekss CEO Janis Oslejs added, "We are really happy that Profal industries have become our license partner. Our jointless Future-Ready flooring technology is now available in Romania and Moldova. It also means that we can now provide our multinational clients in this region with consistent quality PrīmX flooring solutions."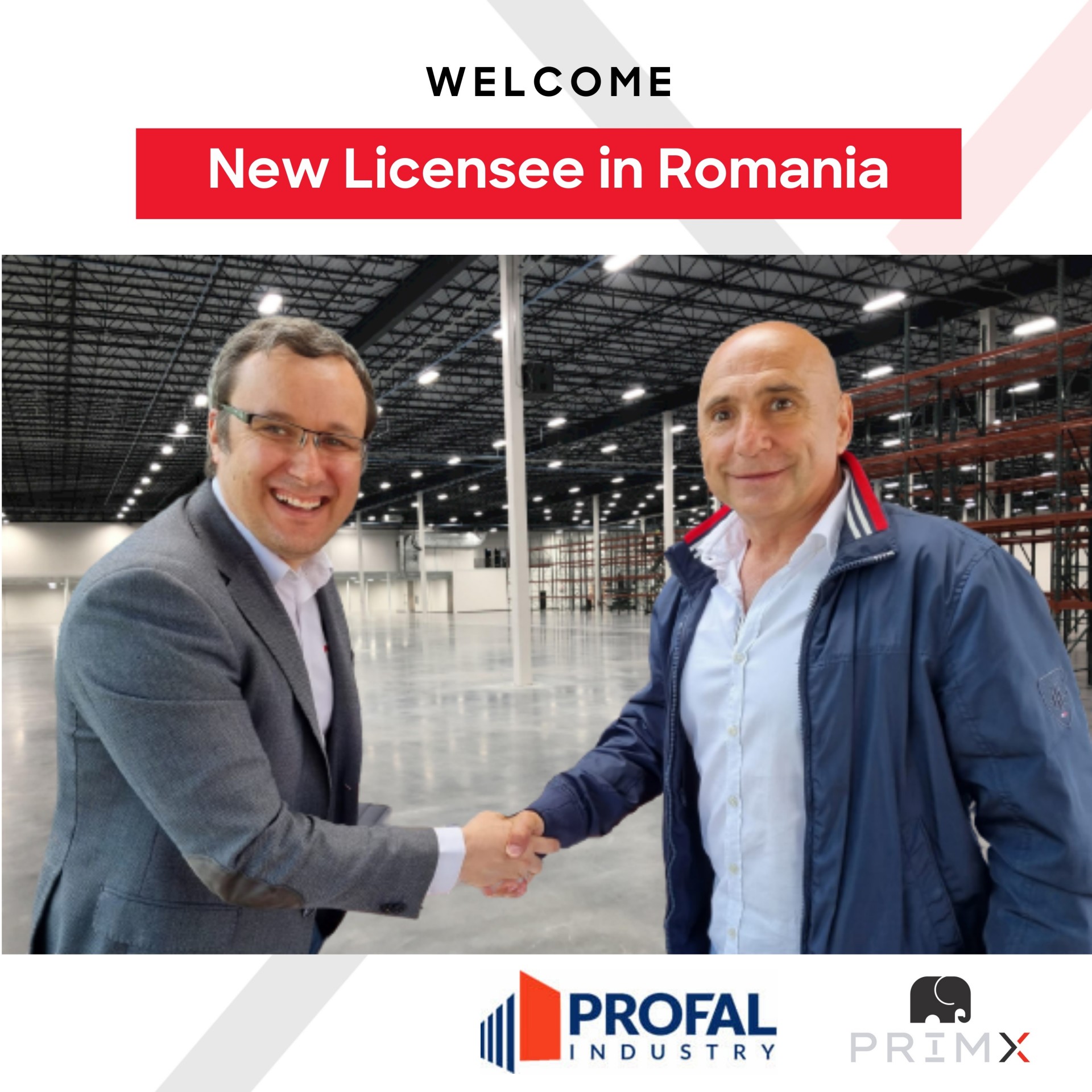 Jonas Mikalajunas, Director | VP Primekss Licensing and Dan Cristurean, Director General of Profal Industry CEO