Exterior pavement – what option to choose?
When it comes to exterior pavements, there are two main material options: concrete and asphalt.
Asphalt is smooth with no joints, mostly used for structures capable to sustain vehicular or foot traffic - roads, freeways, jogging pathways, etc.
The main downsides of the asphalt are that it is a rather flexible material and there often develop rutting in asphalt pavement, its structural stability and strength reduce considerably at elevated temperatures.
Concrete, in turn, is durable, rigid material with low maintenance, great in structures with considerable loading, heavy use, and its structural stability is not impacted by higher ambient temperatures.
However, there is a downside for concrete as well - joints - placed to compensate material shrinkage and so potential uncontrolled cracking.
But is there an option to have material so smooth as asphalt, durable and low maintenance as concrete, and with no joints?
Contraction (shrinkage control) joints in the concrete slabs typically comprise the vast majority of joints utilized for pavements.
These joints are used with an attempt to localize cracking of the concrete caused by the thermal contraction and drying shrinkage of the concrete.
However, even with the great effort required for saw cutting contraction joints, cracking often still occurs outside of contraction joints.
Contraction joints in many cases lead to specific deterioration processes at the slab edges, including D-cracking, curling, and washout of the subgrade material. And these processes at the contraction joint further lead to secondary damage to the pavement and/or vehicles crossing over etc.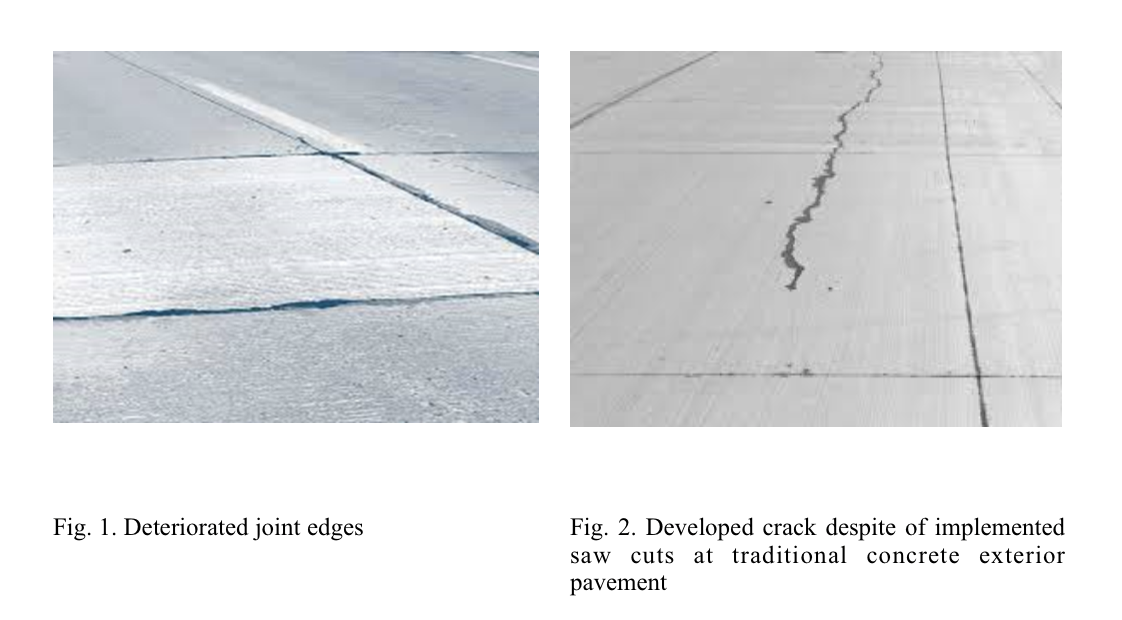 Is there a solution with no joints in the concrete structure?
Introducing solution - world' s first, ultra-tough, completely joint-free exterior concrete pavement – PrīmX UltraPack.
PrīmX UltraPack is a patented high performance two-layer composite concrete pavement system for outdoor application that has been specially engineered to be able to withstand the hygral, thermal and structural loads imposed on an exterior pavement, thus allowing to build structures without need for control joints.
Featuring extremely durable concrete upper layer, it is ideal for outdoor areas, such as truck hardstands outside of warehouses, loading areas with intensive traffic, as well as material storage areas where regular heavy-duty vehicles and aggressive steel bucket loaders are used.
Both layers of the pavement are laid sequentially during the installation process. The system's base layer, which is compacted with rollers, ensures high long-terms stability and load transfer and dissipation in the underlaying ground layers and can withstand temperature movements.
The top layer is made using ultra-durable high-performance concrete containing a high amount of flexural-hardening macro fibers and a mix of proprietary admixtures.
PrīmX UltraPack system advantages:
Jointless solution – perfectly capable to withstand all types of equipment (no issues for excavator loading buckets etc.)
Durability: Unlike asphalt, pavement is capable to withstand high loads without any long-term deformation.
Immune to temperature changes (both in summer and winter).
Higher impact and abrasion resistance - tougher than any other concrete material on the market. Ensured by the extremely durable concrete upper layer.
Cost-efficient – less expensive than traditional concrete and asphalt solutions. In most cases, it is 25-30% less expensive than traditional concrete solutions.
Low maintenance - no need for resurfacing or seal coating. Can easily have a 20-year life span without need for top layer renovation.
Less energy for lightning – reflects light from the paving surface, up to 30% savings of lightning energy.
Less CO2 emissions. on average 60% CO2 emission saving due to thinner structures, materials used.
Typical applications:
Parking lots
Hardstands
Raw material storage fields
Airfields
Runways
Roads
Taxiways etc.
For truck hardstands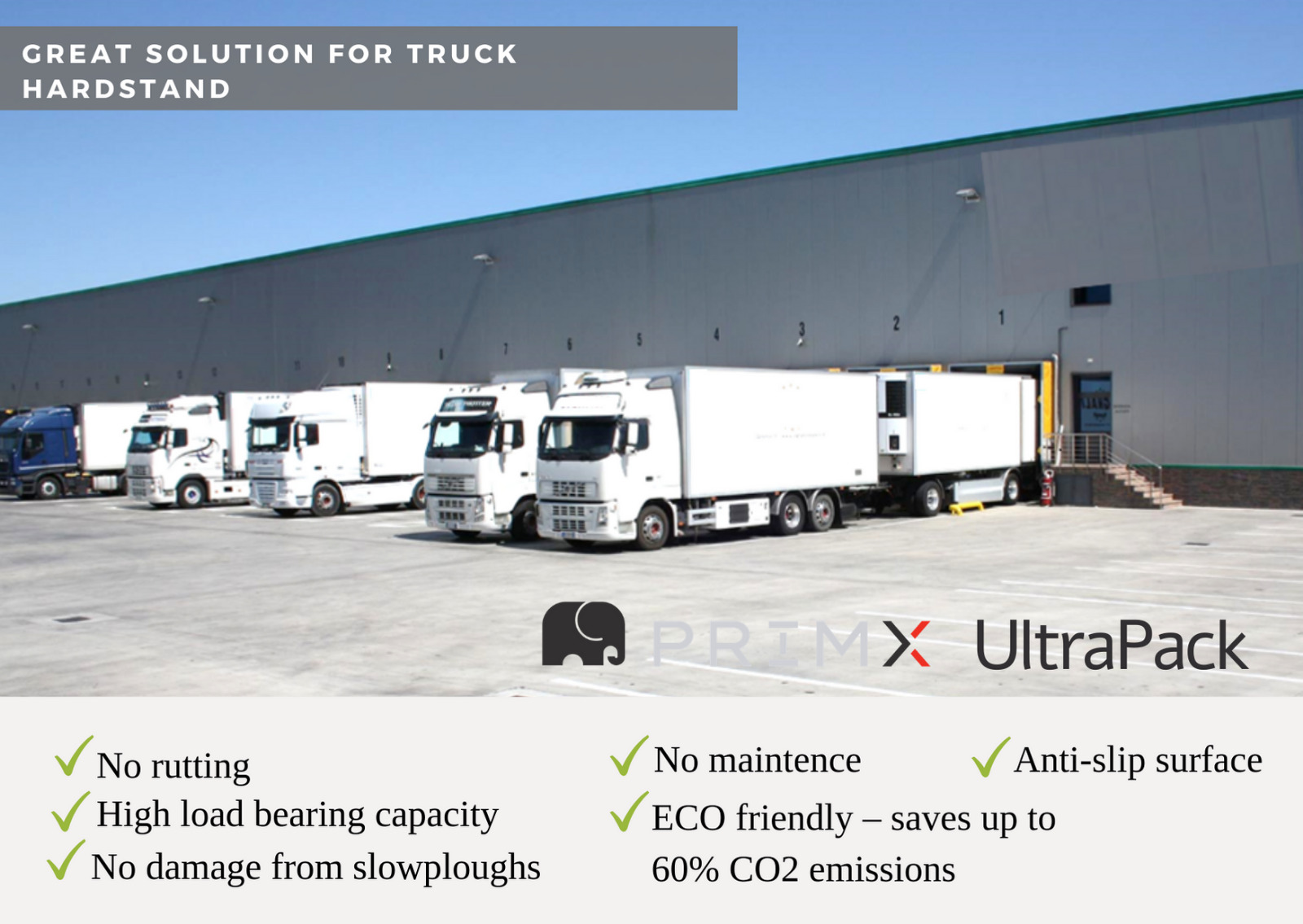 For pavements
For concrete access roads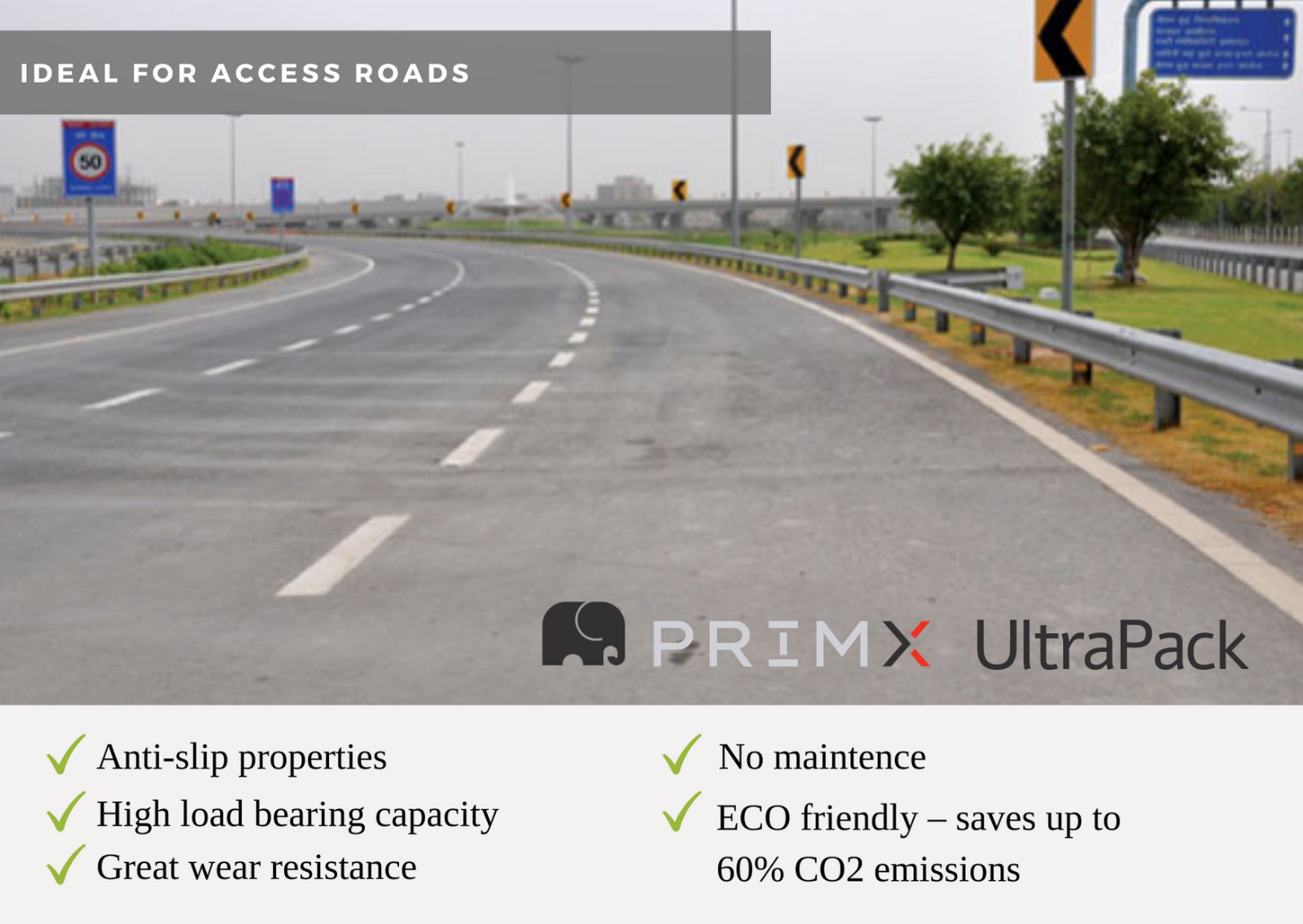 System comparison:
| System | Traditional concrete, saw cut (non reinforced) | PrīmX Outdoor* | PrīmX UltraPack |
| --- | --- | --- | --- |
| Control joints | 7x7m | 25x25m | No joints |
| Speed of installation | Slow | Med | High |
| Relative Load bearing capacity (load bearing vs slab thickness) | Med | High | High |
| Overall impact resistance | Med | High | Very high |
| Thickness comparison | 170 - 200mm | 130mm | 100mm |
| Maintenance costs, overall | Med | Low | Very low |
| CO2 savings | No savings | Avg. 40% | Avg. 60% and more |
* - exterior application of patented PrīmX steel fiber reinforced Zero shrinkage technology. Allows for the extended distance between control joints in an exterior application, up to 30m.
To download PrīmX UltraPack broshure click here
More information regardin our products, please contact us