PrīmX concrete technology - the best fit for consistent quality concrete floors around the world
For any global company, consistent high-quality, minimum maintenance concrete floors wherever you have a presence are critical for the smooth and efficient running of your warehouse and logistic operations. With modern industrial logistics relying ever more heavily on automation and robotics, all aspects of a modern-day industrial facility should be designed and built to accommodate the needs of the automated robotic workforce. More than anything, that means floors with dead flat, level, jointless surfaces for uninterrupted operations that will increase productivity, operational speed, and warehouse turnover.
PrīmX technology floor slabs are designed to facilitate the rapid development of automated logistics and warehousing operations. This Zero-Shrink Steel Fibre Reinforced Self-Stressing Concrete (SFRSSC) technology represents the pinnacle of consistent, high - quality concrete flooring anywhere in the world.
Because of the variability of materials and their accessibility, local climate conditions, the available workforce, and its skills along with other unpredictable factors, consistent quality flooring can become a huge challenge in certain regions. And the absence of reliable floor delivery means huge costs, long-term repair work, and an inevitable slow-down in operations.
PrīmX floor is jointless, smooth, and lifetime flat, so it comes with minimal maintenance costs, does little or no damage to sensitive equipment moving on its surface, is eminently serviceable and has guaranteed long-term value.
From the very beginning, the system was developed to achieve 3 main goals:
To overcome the biggest drawback of concrete – shrinkage and the problems it causes, namely curling and cracking
To create a product that meets essential logistic and warehousing needs: high load-bearing concrete floors that stay flat and allow equipment (forklifts, other MHE, AGV, and robots) to move around smoothly on a surface, that's free from curling, tough, and abrasion-resistant, and able to withstand the long-term onslaught of heavy machinery and/or foot traffic, to ensure continuing value for the owner.
Technology that allows the building of consistent quality slabs anywhere in the world (in different climate zones, using the available cement, sand, and particles). Our own Concrete R&D Center, labs for product development, customized and adjusted mix designs according to local project needs, and end-to-end quality management.
PrīmX – 4 component system to deliver consistent quality on every project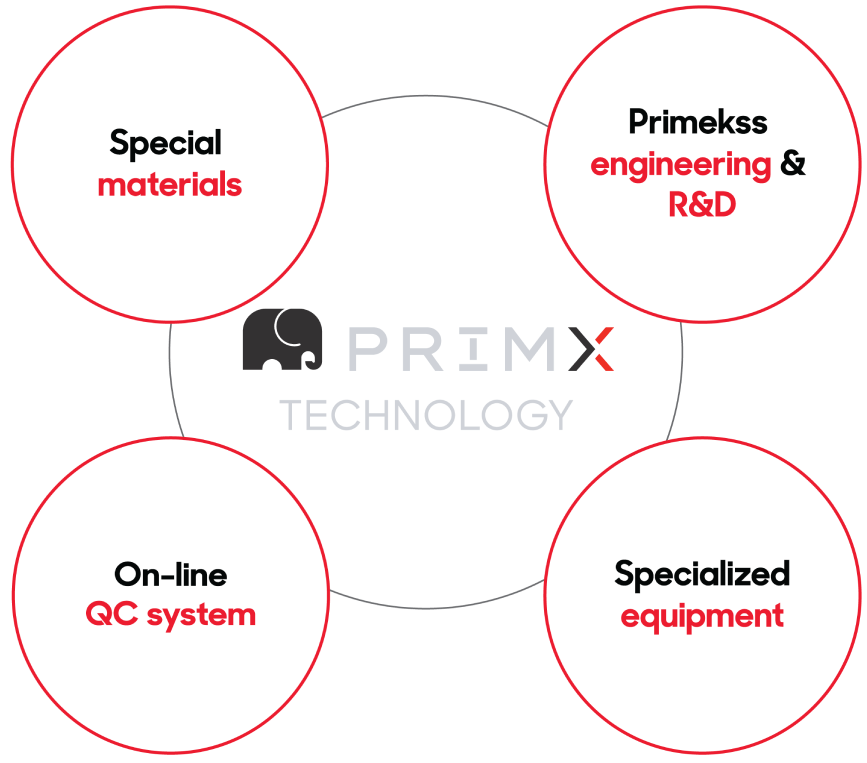 Improved, more efficient Materials

A series of engineered concrete admixtures and additives
Engineered steel & polymer fibers.
Other materials – surface hardening, curing, etc.

Design - build, own concrete R&D center

Structural design & engineering;
Advanced, customized mix-design preparation according to project needs;
Lab pre-testing of cement, aggregates, and other concrete constituents.

Special online QC system – PrimeQuality

End-to-end online quality system;
Monitoring 21 parameters at the job site;
Controlled by Primekss engineers.

Specialized equipment & training

Best-in-class equipment: laser screeds, fiber blowers, dumpers, etc.
On-site concrete testing;
Training for partners.
The core technology of PrīmX features high amount of steel fiber reinforcement embedded in superior, Zero-Shrink concrete matrix, allowing creation of ductile, seamless concrete that is so strong it practically does not need traditional steel rebar reinforcement.
PrīmX Zero-Shrink system eliminates the major drawback of traditional concrete system - concrete shrinkage - which causes floor cracking and curling, failure to deliver floor requirements and resulting in multiple usability problems. PrīmX allows also to build efficient water and gas tight structures. As in most cases, almost no traditional steel rebar reinforcement is needed, thus PrīmX allows to save lots of time and costs.
See video about PrīmX technology.

PrīmX benefits for owners and users:
Jointless

Jointless, saw-cut free floors - true flexibility, no limiations on racking placement.

30% Faster construction

No joints, saw cutting, rebar placement - shorter schedule, reduced costs.

Online Q - control

End-to-end Quality control, on - line 21 - parameter monitoring, batch plant, jobsite.

Full responsibility

Full warranty: materials, design, execution.

Perfect for AGV

Jointless, saw-cut free floors - true flexibility, no limitations for racking placement.

Stay flat

No joints, true flatness, no curling

Hygenic

No joints and no saw-cuts means nowhere for dirt accumulation. Nowhere for bacteria or viruses.

Up to 70% less CO2 emissions

Thanks to better materials, optimized design*, LEED points at no extra charge


* thinner slab that still exceeds defined loading requirements.

Low maintenace

No joints to repair, no damage to forklifts, no health problems for operators.
Jointless

No Saw Cuts

No Dominant Joints

No Curling Near Joints

Stays flat - lifetime Flatenss

Zero-Shrink

Virtually Crack Free

Higher Load Capacity

Much faster installation, on average 30% faster

Drastically minimized or even no Rebar needed

Durable with Less Maintenance and Longer Life

ECO friendly construction – our system allows to save up to 70% of CO2 emissions

End-to-End solution with an optimal finishing method.
PrīmX system - 5 crucial properties for future ready concrete floors
Primekss Worldwide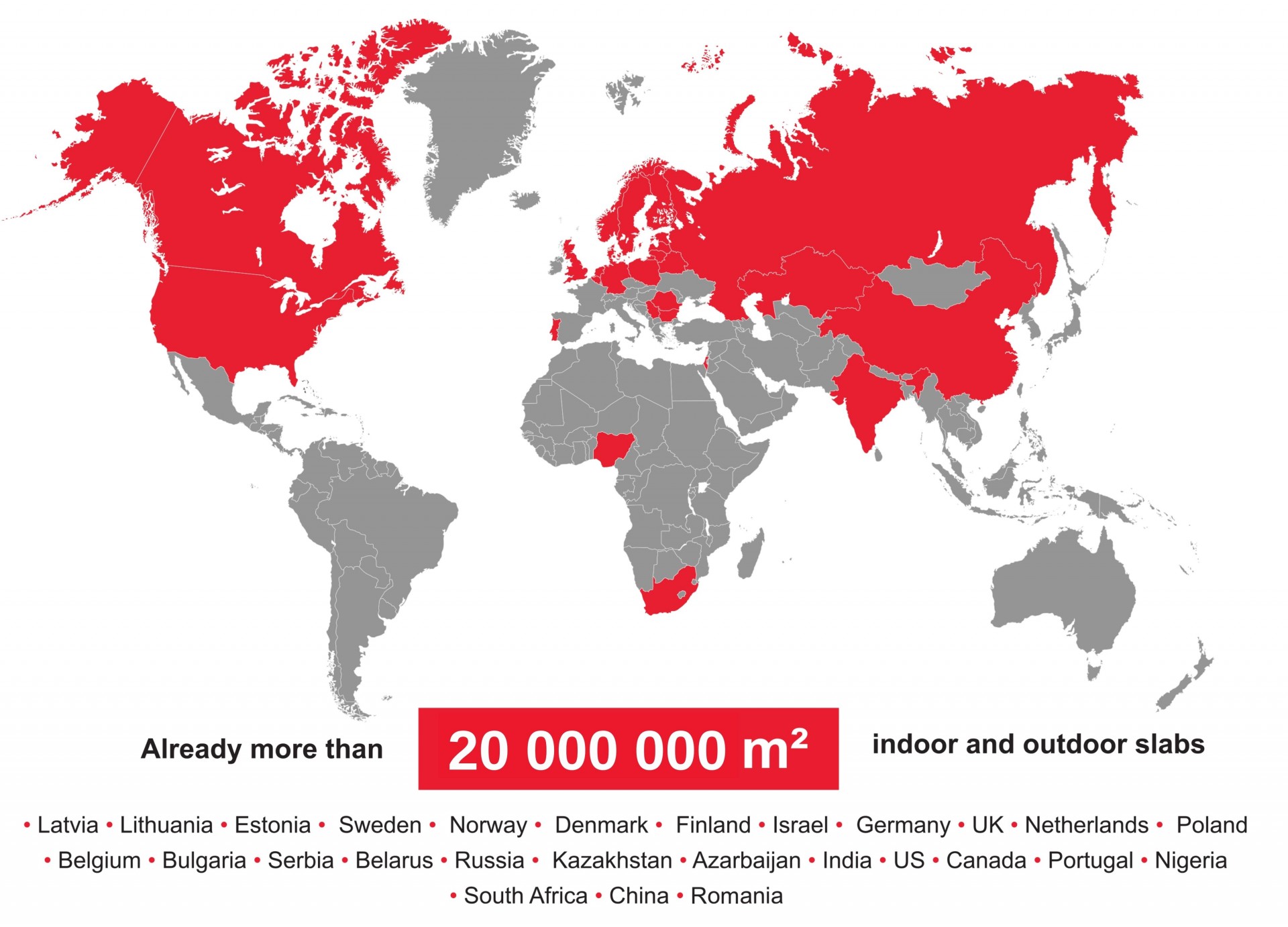 We have delivered projects on four continents, in more than 20 countries around the world, and have a blue-chip customer base: IKEA, Volvo, Lidl, NCC, Logistic Contractor, Prologis, Skanska, and many others. We have the experience and know-how to deliver consistent, quality projects anywhere in the world.
Global operations – how we deliver projects worldwide
Primekss delivers projects with its own resources working as concrete contractor and has license partners who implement projects under strict Primekss quality control, using Primekss Labs and engineering resources (cem. and aggregates testing, mix design adjustment, design etc.) and only approved PrīmX materials. This approach and the way we develop our technology allows us to deliver consistent quality projects practically anywhere in the world.
We deliver End-to-End service – from agreement to the handover of your ready floor. It means we're responsible for the entire project:
Design
Casting
Materials
Sub-base quality control
Quality control (end-to-end, online 21 parameter monitoring, batch plant, jobsite)
Warranty
Our customers
If you have any question abut our system, have interest to contract us for project, please dont hesitate to contact me:
Brett Meadway
Key Account Manager

+371 278 77248
brett.meadway@primekss.com