PrīmX concrete technology - best fit to ensure consistent quality concrete floors anywhere in the world
Consistent high quality, minimum maintenance concrete floors in all regions of presence is one of the critical factors for smooth and efficient warehouse and logistic operations for global companies. Furthermore, there is no doubt – modern industrial logistics involves automation and robotics. It means that all aspects of an industrial facility should be designed and built to be adaptable for automation and robotics, especially the floors - jointless surfaces for uninterrupted operations to increase productivity, operational speed, and warehouse turnover.
PrīmX technology floor slabs are designed to suit rapid development of automated logistics and warehousing operations. This High performance Zero shrinkage steel fiber reinforced concrete system is the best fit to ensure consistent, high quality concrete floors anywhere in the world.
Due to variable materials, material accessibility, climate conditions, available workforce, and its qualification, consistent quality flooring in various regions becomes a huge challenge. And failure in good quality floor delivery means huge costs, repair works in long-term, slow-down in operations etc.
PrīmX floor is jointless, smooth and life time flat, which means it has the lowest possible maintenance cost, lowest damage to equipment, best serviceability and long-term value.
The system from its roots has been developed to meet 3 main goals:
Improve concrete to solve its main drawback – shrinkage and its caused problems: curling and cracking
To create a product that meets the most important logistic and warehousing needs: high load-bearing concrete floors that stay flat to ensure smooth traffic for equipment (forklifts, other MHE, AGV, and robots), no curling, tough and abrasion resistant to withstand the heavy machinery and/or foot traffic in the long run, best long-term value for the owner
Technology that allows to build consistent quality slabs anywhere in the world (various climate zones, available cement, sand, particles etc.). Own Concrete R&D Center, labs for product development, customized and adjusted mix designs according local project needs, end to end quality management.
PrīmX – 4 component system to deliver consistent quality in every project

The core technology of PrīmX features high amount of steel fiber reinforcement embedded in superior, zero shrinkage concrete matrix, allowing creation of ductile, seamless concrete that is so strong it practically does not need traditional steel rebar reinforcement.
Due to precise and controlled integration of special additives, PrīmX concrete does not shrink. Therefore, built structures are waterproof. As in most cases, almost no traditional steel rebar reinforcement is needed, our solutions save lots of time and costs.
See video about PrīmX technology.

PrīmX benefits for owners and users:

Jointless

No Saw Cuts

No Dominant Joints

No Curling Near Joints

Stays flat - lifetime Flatenss

No Shrinkage

Virtually Crack Free

Higher Load Capacity

Much faster installation, on average 30% faster

Drastically minimized or even no Rebar needed

Durable with Less Maintenance and Longer Life

ECO friendly construction – our system allows to save up to 40% of CO2 emissions

End-to-End solution with optimal finishing method.
Primekss Worldwide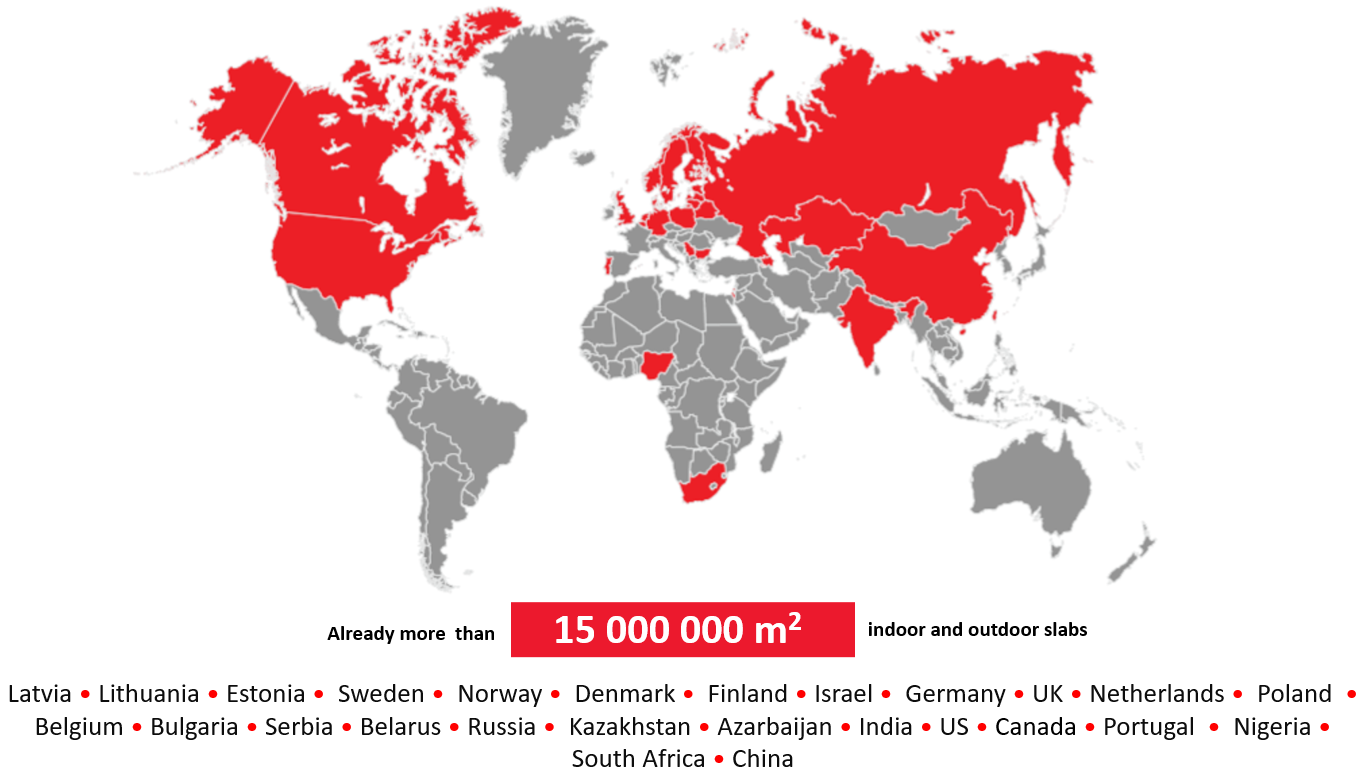 We have delivered projects in 4 continents, in more than 20 countries around the world and have blue chip customer base: IKEA, Volvo, Lidl, NCC, Logistic Contractor, Prologis, Skanska and many others. We have experience and know how to deliver consistent quality project anywhere in the world.
Global operations – how we deliver projects worldwide
Primekss delivers projects with own resources working as concrete contractor and has license partners who implement projects under strict Primekss quality control, use Primekss Labs and engineering resources (cem. and aggregates testing, mix design adjustment, design etc.) and only approved PrīmX materials. This approach and the way our technology is developed allows us to deliver consistent quality projects practically anywhere in the world.
We deliver End to End service – from agreement till ready floor handover. It means one responsibility over the project:
Design
Casting
Materials
Subbase quality control
Quality control (end-to-end, on - line 21 parameter monitoring, batch plant, jobsite)
Warranty
Our customers
If you have any question abut our system, have interest to contract us for project, please dont hesitate to contact me:
Baiba Griezena
Key Account Manager

+46 733 296 474
baiba.griezena@primekss.com